Next Meeting, Monday October 17th
5:30-6:30 At The RI Mushroom Co, 141 Fairgrounds Rd, West Kingston, RI 02892
6:45  Whalers Brewery  & Rhody Fresh Presentation, 1070 Kingstown Rd, Wakefield, RI 02879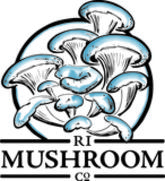 Formed in January of 2013, the RI Mushroom Co., LLC is a growing and dynamic company that cultivates and distributes exotic mushrooms to restaurants and specialty markets in Rhode Island and beyond.
Our farm is located in West Kingston, RI where our grow rooms create the ideal environment for mushroom propagation. We maintain a humidity level of over 95% and a constant, cool temperature that allow our crops to steadily grow into a commodity that is increasingly sought after by professional chef's and home cooks alike. We currently offer several varieties including blue oyster, crimini, golden oyster, king oyster, maitake, portobella, and pioppino — each with its own texture and flavor profile.

Whaler's Brewing Company is a project by Josh Dunlap, Wes Staschke & Andy Tran. We brew beer we like to drink, and we only drink good beer.
Josh Dunlap
Sexiest Brewer Alive (living in Wakefield, Rhode Island)
Josh is a man of simply exquisite taste. He heads up the brewing operation as only an former marine can do — with lots of gratuitous cursing and LOUD MUSIC. It's pretty much the best time ever.
Andy Tran
The Man Behind the Man Behind the Curtain
Or at least that's how he would like to stay. He can be sighted raiding the brewery fridge and poking at things with a screwdriver upon rare ventures outside his cave (office). Some say he drinks his weight in coffee every week, and that if he holds his arms a certain way he gets reception for NPR.
Wesley Staschke
Dr. Strangebrew
Wes can be a bit of a mad scientist in the brew house. We love that about him. Whether it's coriander, hibiscus or "monkeyfarts", the guy can make some damn fine concoctions which you'll just have to try to believe. He takes his beer seriously and so should you.
Not that long ag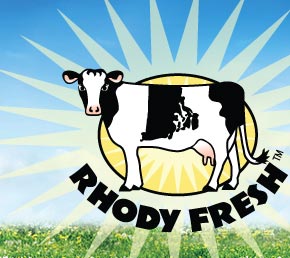 o there were 80 dairy farms in Rhode Island. Since then, many of them have gone out of business. It's a problem faced by agriculture in many areas across the country. An aging farm population and the encroachment of urban development into rural areas. Or here in Rhode Island, issues surrounding the price of milk and high land values are forcing producers out of business. The demand for subdivisions has raised the price of farmland so high in taxes that in many of the communities it's taken a lot of the farmers out. Faced with an uncertain future, the few remaining dairy farmers in Rhode Island decided to band together. Their idea was to create a locally-produced, home grown brand of milk. They would call it Rhody Fresh.
Starting out with a $125,000 dollar loan to cover startup costs along with additional funding from the State of Rhode Island helped kick-start the launch of Rhody Fresh. As with any new business, there was a lot to learn. For example, how would they collect, transport, process and distribute their special brand of milk? Fortunately, one of the co-op members ran a milk transportation business which filled in that gap. The next step was finding a processing plant. They chose Guida's Dairy in New Britain, Connecticut.
Guida processes close to 160,000 gallons of raw milk a day. It comes in on large tanker trucks 24/7. The milk is homogenized, pasteurized, and packaged for distribution.
The Rhode Island Co-op launched a marketing campaign when they began back in 2004. Posters across the state reminded consumers these were local dairy farmers at work. Co-Op member Jessie Dutra says, "People of Rhode Island have really given Rhody Fresh some tremendous support." She thinks the effort to support area farms is being seen all across the country as consumers place greater emphasis on "buying local." "It's added value to the state as a whole by opening people's eyes to educating people and getting people to realize the importance of local — the importance of farms for their product."
And the work paid off. Within the first six months, Rhody Fresh met their 3-year projected goal and in 2007 they saw a 30% increase in sales as well. It was exciting to taste that success and to be a household name. Rhody Fresh knew they had a good product.