Chef Daniel Van Etten On WPRI 12 the Rhode Show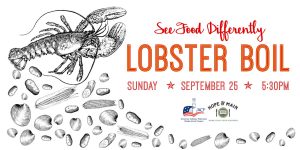 In the Kitchen: New England Clam Boil
In the Kitchen: New England Clam Boil
Go Providence has brought us Executive Chef Daniel Van Etten from Hope & Main and American Culinary Federation RI to make New England Clam Boil!
Ingredients:
2 gallons court bouillon See Recipe below More or less to cover the shellfish in your pan
4 -1 pound lobsters
8 cherrystone clams
2# steamer clams
2# mussels
1# chorizo
4 each Corn on the cob
8 small red potatoes
½ pound butter
4 onion bags or cheesecloth bags (bags are not necessary but it makes cooking for a crowd easier)
Court Bouillon
1 Gallon water
2 cups white wine
4 lemons, juiced
½ pound onion, chopped
2 celery rib, chopped
6 garlic clove, chopped finely
1 tablespoon black peppercorns
¼ bunch fresh Parsley
2 oz. fresh thyme
4 bay leaf
2-3 dry chili peppers
Instructions:
For Court Bouillon, Combine all ingredients in a large pot and bring to a boil over high heat. Reduce the heat and simmer for 10 minutes.
Place court bouillon in a large and bring to a simmer
Melt butter in a small sauce pan
Shuck corn and remove silk
Wash potatoes
Wash all shellfish in cold water, remove any beards from the Mussels
In each bag place
1 pound lobsters
2 cherrystone clams
1/2# steamer clams
1/2# mussels
4 oz chorizo
1 each Corn on the cob
2 small red potatoes
Place bags in simmering court bouillon and cover return to a simmer and cook for 20 minutes or until the potatoes are tender remove from water and serve with melted butter.